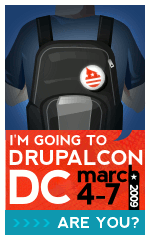 After dawdling on Twitter all morning (we're two hours ahead here in Buenos Aires) I was able to be one of the first to rush over to the DrupalCon DC 2009 site and register!
Looks like DrupalCon DC is shaping up to be one of the best and most exciting fests ever!
I am sure it will mark a significant consolidation of the developer and user base around  Drupal 6 and its derivatives, and an exciting preview of the futures to come.
Now, to put my thinking cap on for my best Session proposal, and to decide which sessions to vote for…!