Archive - 2008
November 23rd
Sun, 2008-11-23 13:29 — victorkane
This is a first longish article in what is to be a longish series of articles on how working stiffs can have their very own Drupal development server, with all the tools they need to develop, test and deploy and monitor their Drupal projects, for free. As such it is techie but only enough to get the job done.
Drupal site monitoring (site up? new versions or releases need to be installed, especially security releases? etc., etc.) will be integrated into the Project Flow and Tracker Drupal development framework installation profile (the heart of the development server) via Nagios, so that when you start a project, the associated test site can be monitored as you work, whether local or remote.
Sign up for a free account and test out Project Flow & Tracker (still in alpha but perfectly usable, check out the podcast on how to set up a project): http://projectflowandtracker.com/
See Project Flow & Tracker DrupalConDC 2009 session proposal here: http://dc2009.drupalcon.org/session/project-flow-and-tracker-business-ob...
Track Project Flow & Tracker development progress here: http://groups.drupal.org/node/16850
Contents of this article:
November 11th
Tue, 2008-11-11 08:45 — victorkane

I have written a 24-page guide to upgrading a fully-loaded production Drupal based website to Drupal 6.x (complete with downloadable "before" and "after" drupal sites), and it has been published as a Wrox Blox, and is now on sale for $6.99. I sincerely hope people find it useful.
November 1st
October 25th
October 21st
Tue, 2008-10-21 14:48 — victorkane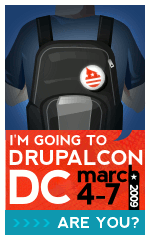 After dawdling on Twitter all morning (we're two hours ahead here in Buenos Aires) I was able to be one of the first to rush over to the DrupalCon DC 2009 site and register!
Looks like DrupalCon DC is shaping up to be one of the best and most exciting fests ever!